Do you get your school supplies before or after the semester starts?
As a math major, I flip flopped between shopping before, after, then before again and that time with a staple shopping list. I had to do too much thinking for the 3 math and 2 education classes per semester, and I did not want school supplies to take up any more of my brain space than it needed to.
To go along with school supplies and tools there were also resources I used, either recommended by my professors or ones that I stumbled upon myself. These became very useful in helping me understand math better, helping me take better math notes and equipping me to teach math better.
In this article, I will share 5 tools and resources you need to prep you for a successful semester in Algebra class. Since Algebra is so different than Pre-Algebra and Basic Math you may be using some of these new tools for the first time.
Binders Rule
So the great debate about how to store math notes is always between notebooks and binders. Some people have good reason for choosing to use notebooks, but in my opinion, math notes are best stored in a binder.
My reasoning is based on my notebook dilemma in college as a math major: I'd take the most thorough notes in my math classes and run out of paper mid-semester. Then I'd buy a new notebook and start taking notes there, while also carrying my old notebook. But when I needed to refer to some old notes, I had to search through both notebooks to find them. Needless to say I was unorganized and frequently frustrated with my math notes situation.
How did I fix that?
I started buying binders at the beginning of each semester. The coolest thing about binders is that you can add stuff to them, like more paper when you run out, dividers for your different sections of notes, clip-in folders, a pencil bag, sticky notes, and a bunch of other things.
They're so versatile and easily customizable! You can even decorate them by sliding a decorated sheet of paper in the front and/or back plastic slots (if you get that kind of binder). Some even come with outside zippers.
I hope I've convinced you that binders are better than notebooks. Now you can start your Algebra with a customized binder, ready to fill those pages with helpful math notes.

2. KOG Math Notes-to-study Binder Sheets
These essential template sheets are meant to ever so conveniently clip into your math binder. I've created them as a combination of different types of math note taking systems:
With Cornell Note System as the base of these binder sheets, you're able to include a heading, questions and subheadings, details and answers to those questions (whether through text or drawings) and a summary. Summaries are great for memory and comprehension since they prompt you to paraphrase what you just learned in the lesson.
When you download the KOG Math Notes-to-Study Binder Sheets and print them out, you'll see that there are sections and options to choose from according to your preferred note-taking style.
You also have more templates to help you dig deeper into itemizing and understanding the math topic, which support productive study sessions. These include templates for extra summaries, vocabulary words, formulas, classmate contact info and study group arrangements.
Did you get the "notes-to-study" part, yet? These binder sheets are a great way to organize your notes so that you can study from them later.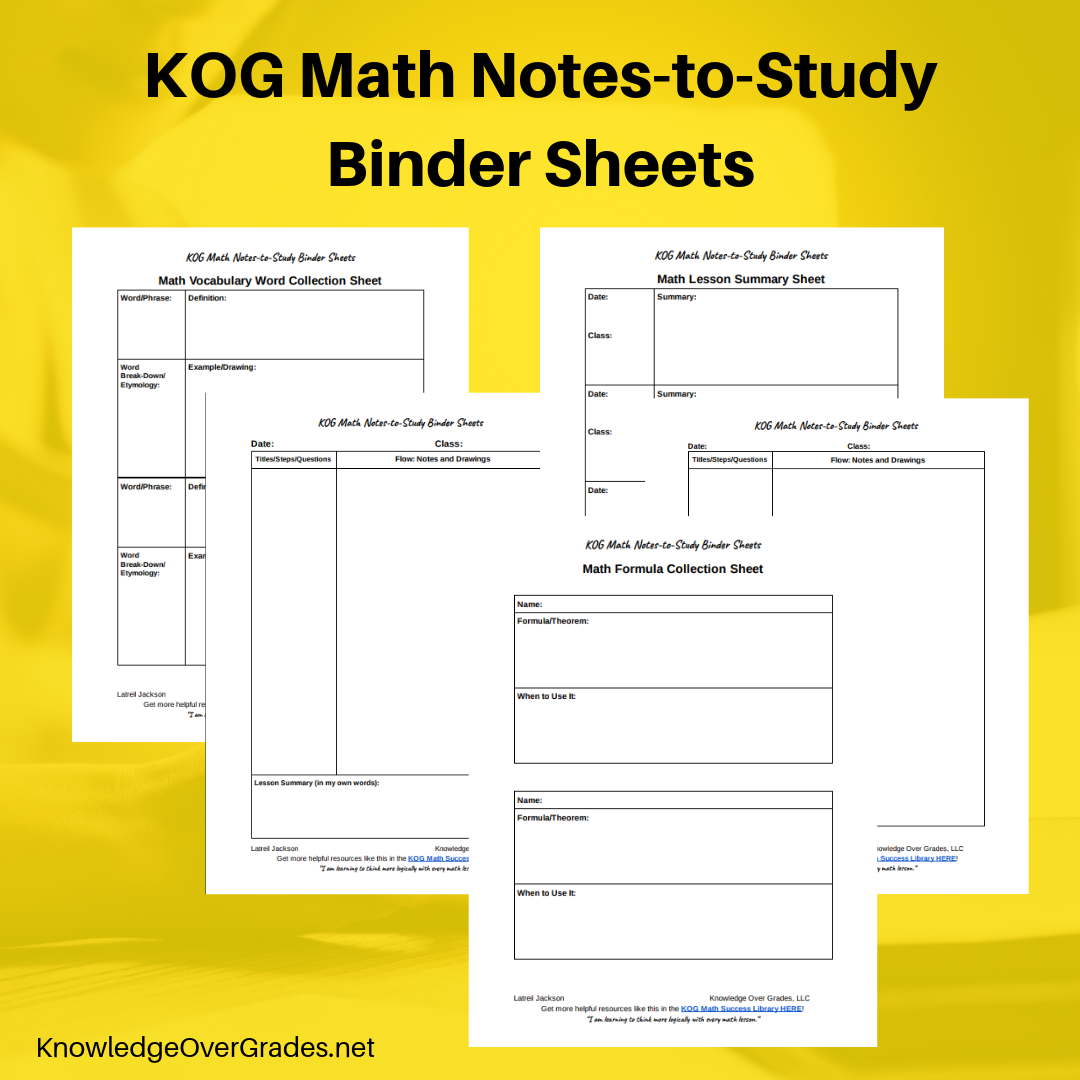 3. The Proper Writing Utensils
Pencils or Pens?
Of course I'm going to say pencils. Mistakes happen and we're not in the business of wasting the use of a perfect tree, which permanent ink pens will have you doing. It's better to just have the option to erase.
That's why you need to get yourself some pencils and erasers for your Algebra notes and corrections.
What kind of pencils are best for math?
Well my math friend Brittany Rhodes over at BlackGirlMathgicBox.com gave us a few choices in her back-to-school newsletter, which are the pencils she also included in her September "School Daze" subscription box.

Brittany recommends,
"My OG pencil pick. I've been using this one since high school/college. It has great grip, comes in fun colors and writes beautifully." - Brittany
"I just got hip to this pencil about a month ago and I am in love. I was initially drawn to it because it was purple and pretty (and let's be real - who doesn't love a pretty writing utensil?). When I wrote with it, I saw that it was as pretty on the inside as it is on the outside! Writes like a dream and doesn't smear! Plus, it's so sleek, people often mistake it for a pen." - Brittany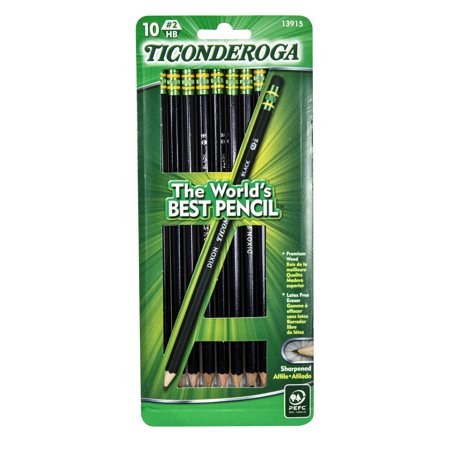 "A pencil that calls itself the world's best pencil? With that kind of confidence, I had to include this one! I've never used these, but the reviews back up the self-proclaimed best pencil-dom, plus it's gorgeous! (Can you tell I'm a sucker for a beautiful pencil?)" - Brittany
Thanks Brittany for your fancy breakdown 😉 . I had no pencil suggestions because I just hit the dollar store and keep it moving lol!
Colored Pencils
One of my math professors who I had twice (for Advanced Calculus and Complex Analysis, plus he was my adviser) encouraged us students to use colored pencils with our notes. His lessons were always markings and drawings of colorful chalk on the black board, which was the most exciting part of class (the little things lol). He purposefully assigned colors to specific parts of the notes or layers of his illustrations, and this actually made it easier to understand even though these classes were super challenging for me.
So guess what I did…
I got some colored pencils to study with 😊. And now, just like my professor, I also use them when teaching math to reinforce the point.
Now you may be thinking, "But what if I make a mistake? I can't erase color!"
4. A graphing calculator
If you're taking Algebra and you're going to buy a calculator, it might as well be a graphing calculator. Yes there will be some simple calculations you can do with a regular calculator. But Algebra is where you begin to plot points, graph linear and quadratic functions, find min's and max's and so on.
You can begin to benefit from the other features of a graphing calculator that make these aspects of Algebra a lot easier to comprehend and quicker to complete. Once you get used to using a graphing calculator in Algebra 1, you'll be all set for Algebra 2 where it becomes a HEAVY DUTY tool.

Types of Graphing Calculators
Now as far as the types of graphing calculators out there, there are 2 pretty popular ones that I know about with one being more popular than the other.
Texas Instrument Graphing Calculators
We have the Texas Instruments coming in first place. This is the calculator that just about every math student has used and will use (and probably thinks this is the only one). This is the calculator that has the most YouTube tutorials on how to do math, play games on, clear memory, etc. They are also kind of pricey, on the lower to mid $100 range, but you may be able to find some used ones for lower.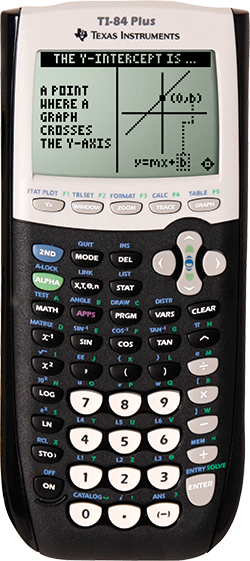 TI 84 Plus Graphing Calculator
If you need a Texas Instrument graphing calculator and you're tight on cash, I have a math friend, Francis who does 4-month rentals through his business Graphtor.com at reasonable prices. Use my code KOG2019 to get $5 off.
And of course, there's Amazon where you can browse the different models and even buy a used one for cheaper. Check out these price listings.
Casio Graphing Calculators
The other brand for graphing calculators is Casio. Casio's are priced slightly cheaper than Texas Instrument's, some models even going below $100, so they may be a more affordable option for you. Check out these price listings.
I've never used a Casio and would probably start sweating if I really had to because I have no idea how they work. However Mr. Orys from Maths with Mr. Orys YouTube channel does, so browse through his playlist below to learn how to use it.
Now I totally understand having the desire to buy a graphing calculator but not being able to afford one (that's why I think Francis' idea of renting them out at Graphtor.com for $40 a semester is such a grand idea! If you do decide to rent one, get $5 off with my code KOG2019)
Storytime:
When I was in college, my graphing calculator BROKE the BANK! Especially after all those $100+ textbook expenses.

And then guess what... when I graduated and became an Algebra 2 teacher, being the "all over the place" teacher I am sometimes, I set the calculator down on a kid's desk and... never was it to be found again. It happened twice.

I literally still don't have one.
But the next two suggestions can substitute for a real graphing calculator, except for when you're taking a test…

This is an app that one of my math teacher friends put me on to. It's literally a Texas Instrument graphing calculator… on your phone. Totally legal. It looks like you can grab it out of the screen. The buttons and everything are the same as the real thing. And apparently you can download it onto your computer as well.
If you need a graphing calculator for homework or studying, go ahead and download Wabbitemu.
Click Here to learn how to download this app onto your Android Phone.

Click Here to learn how to download this app onto your iPhone.

Click Here to learn how to download the software onto your computer.


This app and website is like my buddy. I'm always using it during tutoring to show my students what's really going on when they're solving logarithmic and trigonometric functions.
All you have to do is go to Desmos.com online or download the app and create a free account. There is a small learning curve for basic math and Algebra needs if you're coming from a graphing calculator. However, once you start exploring, this program is so dynamic you'll start wanting to play around, create figures, functions and all out animations for fun! Don't forget to complete your assignments.
The Drawback of Not Having a Physical Graphing Calculator
The only drawback with these two graphing calculator substitutions is that most schools don't allow students to use their phones during tests (probably all schools), so you'll be stuck at that point. But you can ask a friend or classmate to borrow theirs just for a few hours during the test and give it back afterwards.
5. Online Math support platform
I think many math students will agree with me that just going to class isn't always enough to actually master the concept. And going home to do homework could leave you even more confused and ready to quit.
That's why an online math support platform can be so helpful as a way to supplement the learning process. I personally relied on Google and YouTube all throughout college, however I did desire something more structured and easier to navigate.
What should you look for in an online Math support platform?
Well you want the platform to be helpful and not a burden, right?
So you'd want it to address what you're learning right now in class and show you step-by-step what to do.

You'd want to see several ways to solve the problem.

You'd want to explanations and

You want to know how to get the answers on your own, ideally on a test when you can't ask for help.
If that's what you want, then these are features you should look for in an online math support program.
Live Q&A Sessions

Problem-Solving Video Tutorials

A Library of Study Guides, Templates and Cheat Sheet Downloads

Mini-Courses to remind you of skills needed for what you're doing right now

Actionable tips on how to study math to increase your comprehension, memory and scores
The one and only online math support program that I can recommend that has all these features is the KOG Math Success Academy.
If you'd like to learn more about the academy, fill out the form below and I'll send you the details.
I hope that this article was helpful in giving you an idea of tools and resources you need for your Algebra class. I've taken plenty of math classes and the bare essentials needed, besides the textbook, were always these five categories. Be sure to check out the links to see if you can snag a deal and/or enhance your Algebra toolbox.
Leave a comment
… and let me know what you would add to this list. Also don't forget to share with your math friends.